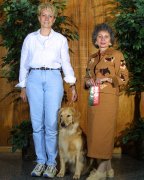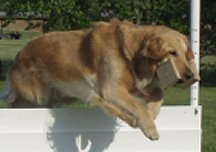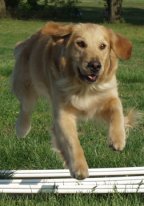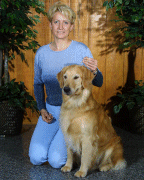 This page was last updated on: February 22, 2020
"Partie"  UD Photos, Knoxville TN. June 2002

"Partie"  CDX Photos, 

Clarksville TN. April 2001

"Partie"  BOS Clarksville, TN.  May 2000

Int. CH Passion's Goldene Partie UD  

                                                   (9/5/1998-

Call name: "Partie" 

Gender: Female  

Height: 22" at withers

Weight: 65-70 pounds

Registration: AKC SN57561006 

Breeder: Heike Stroup, Clarksville, TN 

Owner: Heike Stroup, Clarksville, TN. 

Hip clearance: OFA GR-70726F26F-PI 

Eye clearance: CERF GR-22858/2005--82 

Heart clearance: OFA GR-CA03622/23F/C-PI 

Elbow clearance: OFA GR-EL6459F48-PI 

Under obedience standards, "Partie" is considered a very smart, alert, focused dog with a medium energy level and great communication skills.  

It sure was fun to train and show her to her UD.  

Under conformation standard, she is considered a higher energy dog, with mega  show attitude.  

No doubt, when she entered the breed ring she knew she was "Queen" 

and made sure no one missed it!  

I am sure my purpose was to be the "one on the other end of the lead"  

She sure did all the showing on her own self :-)

Under home as a pet standards, she is great to live with.  She stays out of trouble,  just wants to be near me, loved on, played with...... and coax me into giving her treats :-)

Partie now lives with Dan and Pam Meyer,

 here in Clarksville, TN.

Passion For Gold

Clarksville, TN.

(931) 553-0026

"Partie" & "Titan" Litter Dec.04

             8 week old 

            Puppy